THIS IS UNRELEASED/UNRELEASABLE VOL.4 - A YEAR OF WRECKAGE.

This project will run from May 2019 - April 2020. There will be at least one release per month of brand new 65days material delivered to your inbox, with each month loosely themed around a particular sound palette/idea/experiment/algorithm. Each release will vary in length depending on the nature of the material, but never less than a full e.p's worth of content. More details...

Since our last record in 2016 we've stopped caring if we're a band or not, even though if we aren't a band, it would be almost impossible to articulate what we actually are. We've investigated algorithmic music, tried writing music while living in different countries, played some weird shows consisting only of new material and without all of us being there. Nothing has changed, everything has changed. We are just 65, as always.

We have written a new album. It's great, like sad rain in a nameless neon city, like operating systems becoming sentient in their death throes, like drinking jet lag or flowers pushing through concrete. That will happen in the autumn, and please do feel free to wait for that in a state of extreme anticipation.

The album wouldn't exist without all that backstory, and for once that's worth talking about, or at least we think so. For that reason we're launching this subscription. This is where you can see behind the scenes of the last three years of noise and experimentation as well as the ongoing work we're still doing.

The subscription will get you an entire new library of 65music, consisting of loosely themed monthly releases curated from a recent and still growing archive of primordial 65sound palettes, a catalogue of (computer) error and guitar glitches, drone ambience and unexpected breakcore math insanity, bleak strategies and escape tunnels.

Less conceptually, but no less important, if you're one of the many kind people who have ever asked what the most direct way to support us, then signing up to this subscription is undoubtedly the most effective way to do it. Becoming a supporter will get you hours of new, carefully crafted 65days music. It's cheaper and better than Netflix and the more subscribers we manage to gather for this thing, the more we'll be able to do with it.

If you don't feel like subscribing, then as each new release is made available to subscribers, the previous month will become available to stream or buy standalone here.

Subscribers will also get an immediate download of Silent Running, our 2011 album based on a live rescore we composed for the film of the same name, Stumble.Stop.Repeat (2003), our first ever E.P, and Play.Nice.Kids(2003), a previously unavailable CDR-only early release.
Here's what you get:
All the new music we make

streaming instantly on your mobile device via the free Bandcamp app, and also available as a high-quality download.*

Access to subscriber-exclusive messages:

These back-catalog and subscriber-only releases:
A 15% discount on all our merchandise.
The satisfaction of knowing you're supporting us in a sustainable way.
You're a subscriber
Thank you!
* Downloads are DRM-free and available in MP3, FLAC and
more
.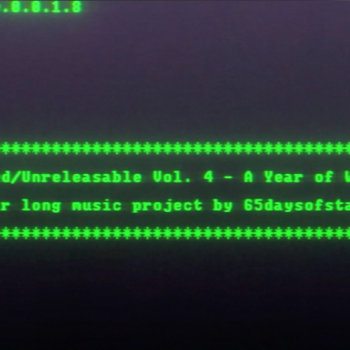 65daysofstatic
Sheffield, UK